This is a Sponsored post written by me on behalf of Scotts Miracle-Gro. All opinions are 100% mine.
Our yard always seems to be a work in progress.  
I like to keep things simple and pretty, but since our yard is small, 
I want to make sure the plants flow together but still stand out on their own.
 I have seen a lot of inspiration around the web,
and it seems I am always drawn to the landscaping with mulch.
It just makes the yard look "done".
 In our quest for sustainable gardening,
I use Scotts Florida Select Natural Eucalyptus Mulch.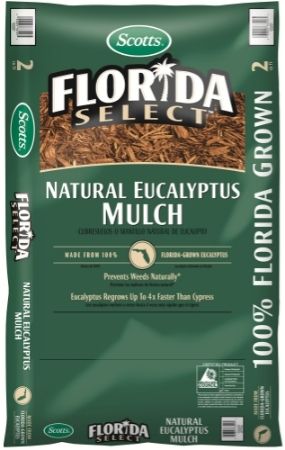 It is natural, made in the USA (100% Florida grown Eucalyptus) and effective in preventing weeds naturally (by blocking growth and access to sunlight). 
It is an easy way to add definition and beauty.
I love Scotts Nature Scapes mulch color and texture options!
Not only do they help maintain moisture and create a groomed landscape all year long,
it is such a fun way to change up the entire look of the yard...
Florida Select Mulch is easy to use and in minutes, with a few simple gardening supplies such as a shovel and gloves, plants and your mulch, you are finished.
 Spread it 3 inches deep and keep mulch several inches from tree trunks and house foundations.  You can apply it around trees, shrubs, flowers or vegetables after the seeds have germinated and plants have developed (do not use it before they are ready!)  
A 2 cubic foot bag will cover 8 square feet of bedding area.
And the best part is I love the smell!  
I know that sounds weird, but it brings me right back to my days of living in San Francisco and walking through the gorgeous Eucalyptus trees in The Presidio.
Happy Mulching!